Club knows what winning is again. After a mature performance, they took the three points against Bodø/Glimt (0-1) – good job. This way, Club can prepare the charged match in Standard with a little more peace of mind.
During Club's last European trip against Osasuna, there was some commotion here and there about the opening sentences of our article. We wrote about sweat and a certain part of the body – it was so hot in Pamplona – which one reader found funny, while another found it a lesser find. Unfortunately, you can't do good for everyone.
Why are we bringing this up again now, you ask? Well, in Bodø there was no sweat, but there was frozen fingers. Above the Arctic Circle, spectators come to the matches in ski suits, the feeling temperature is below zero degrees. We stuck to a winter coat, an extra T-shirt and two pairs of stockings. Rest assured: that was insufficient.
In that harsh cold, on an artificial grass field, in an attractive stadium and especially without Skov Olsen and Nusa, Club Brugge had to get a result against a tough opponent. Not at all obvious.
Vanaken again
Bodø/Glimt presented themselves as the Norwegian journalists had predicted: with courage and footballing intentions. It also provided the home team with two big chances before the break. Twice it was Albert Grønbæk who was allowed to decide, but he was not clinical enough.
Especially at the first opportunity, the Bruges defense should have done better. After a long ball from the back and a good touch from the striker, Grønbæk could only approach Simon Mignolet. It shouldn't be that easy at this level, but hey, the people of Bruges made it to halftime without conceding a goal.
A goal was scored on the other side: 0-1 for Club. After a nice move on the right flank, a busy Zinckernagel found Vanaken in the box. At that moment you know Vanaken has pulled the trigger: he pushed in with control. His fifth goal of the season already, Vanaken has always been among the better ones in recent weeks.
If it's right, we'll say it too: Brandon Mechele was the basis for the 0-1 with an excellent long ball.
At Club, which could also threaten through Thiago and Skoras, no one really stood out, except the Pole. It's time for Skoras to show why Club paid a few million for him.
During the fifteen minute break we stood jumping behind our press bench. Just to give you an idea of ​​the weather conditions.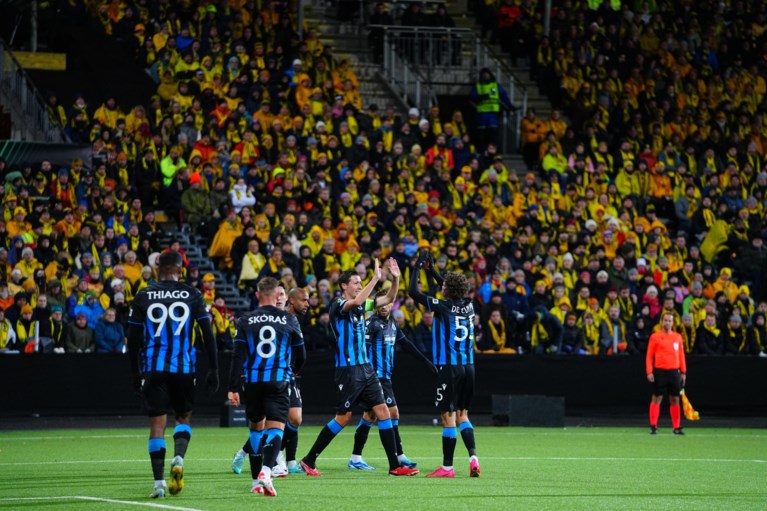 Serious rain showers
They only got worse afterwards. In the second half we worked on a wet laptop. The gusts of rain came deep under the stands via gusts of wind. We were able to immediately note two Bodø/Glimt moments between the splashes. Mignolet was right on a target from Moumbagna, a striker for whom Bodø/Glimt had already refused bids of twelve million. Pellegrino, for his part, could also have made it 1-1, but he started to hesitate around the penalty point. Club was a bit sloppy in the zone of truth. After an hour it was still 0-1.
Ronny Deila had now introduced two added value players with Buchanan and Jutglà. Thiago worked hard again, but it could have been a little more. Jutglà promptly tested the Norwegian goalkeeper's fists. A mature Club had a lot of ball possession during this period and thus gained control.
However, attention remained: it would not be the first time that apparently nothing was wrong and that Club was still left behind.
That didn't happen this time. It was sink or sink at times, Bodø/Glimt still came up, but Club held up admirably with a first clean sheet in eleven (!) games. They are not fair-weather footballers.
After a difficult period – four 1-1 draws in a row – this victory is good for Club. Blue-black can thus work a little more liberatingly towards the match at Sclessin. It will undoubtedly be hotter there than in Norway. Not only for Deila – a warm welcome awaits him – but for every Belgian who was in Bodø. Brrrr.