In Barcelona, ​​Antwerp was immediately confronted with the facts. The Belgian went all out against the Spanish champion. 5-0 was not an exaggeration at all. Welcome to the Champions League.
L'Estadi Olímpic Lluís Companys. Not easy to remember, because it is not Camp Nou, but at least three thousand Antwerp fans who will never forget the name. The stadium on Montjuïc, where Remco Evenepoel tried in vain to release Primoz Roglic six months ago, was the setting for the Great Old's first real Champions League match. Paul Gheysens and wife Ria were also dazzling.
Now, let's get started. Other Belgian top clubs know how difficult it can be when traveling in Spain. We still remember how Genk lost 6-0 to Real Madrid and even 7-0 to Valencia. Or how Standard lost 5-1 to Sevilla. However, last season Anderlecht won against Villarreal (0-1) and Club Brugge actually forced qualification for the 1/8th finals of the champions ball against Atlético (0-0). So come on: Antwerp also had to believe in it against the big – say gigantic – FC Barcelona.
The visitors kept everything under control in the first ten minutes. They gave nothing away and came out well a few times, with 'Arturo' Vermeeren whose first touches were fine. Not a problem, until Barça suddenly switched up three gears when in possession of the ball. Via Gavi, Gündogan, Lewandowski and again Gündogan – at Antwerp they no longer knew where to walk or look – the ball came to the free-standing Joao Felix, who had no trouble putting Alderweireld and Butez on the wrong foot. Tiqui-taca from the top shelf and the 1-0 was a fact.
Consultation between the trainers
Mark van Bommel was disappointed, especially when his defense was played out of proportion again ten minutes later. In other words: Bataille let Felix cross and Coulibaly had lost sight of Lewandowski. If there is one thing you should not do with the Polish striker… After Ronaldo and Messi, he is the player with the most CL goals to his name – 91 now became 92. During his celebration we saw Van Bommel and Xavi, who had to coach right next to each other, will consult. No idea what was said there – the former teammates also held their hands over their mouths – but the Dutchman must have already known that it was over. And then a few dozen seconds later, when Raphinha's cross fluttered into the goal via Bataille's shoulder. 3-0 after just 21 minutes: Antwerp saw not only stars but also asterisks, all right in front of the supporters who traveled along and dressed in white, who also had to recover.
There was little to say about the rest of the first half, because all tension was gone. Barcelona continued to attack, but could no longer get past Butez. Only just before half time did Ter Stegen also have to intervene, on a shot by Muja. It was time for a pep talk. Not yet for substitutions. The same eleven were given the opportunity to regain their composure somewhat.
Fans continue to sing
That turned out to be, erm, difficult. Butez immediately had to scramble to prevent Raphinha from scoring, but it didn't take long before he had to give in again. After a clever combination on the right, the ball eventually came to Gavi's left, who hit the ball hard. Alderweireld in particular was cursing a lot now. The captain once conceded four goals against Barcelona, ​​five years ago with Tottenham. Now we had to pray that it would stay at four.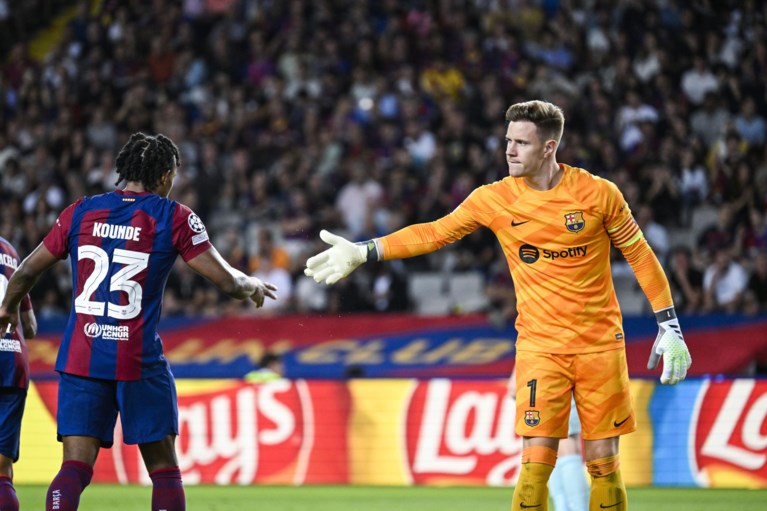 The atmosphere among the home fans was now good, they were now also chanting Xavi's name. It is to the credit of Antwerp that they also continued to make themselves heard. A pandering against the 27-time Spanish champion: whatever it is, they seemed to think. Pride still prevails, especially after they came together again last week in Kinepolis for last season's film. And yet: in the Catalan capital it did not have to become a horror picture.
Go, the forfait figures appeared on the board. This time Wijndal could not get the cross out and substitute De Laet lost the header to Felix. Cinco-cero. And then Yamal still had to appear. The 16-year-old top talent immediately had the 6-0 at his feet, but wanted to do it way too nicely and spared Butez.
A little more against Shakhtar
With Yusuf, Kerk, Ilenikhena and Valencia as fresh players, Antwerp tried not to let the disgrace become even greater, but the fact that the score remained at 5-0 was mainly due to Barcelona itself. This first opponent was more than a size too big. Van Bommel was also unable to win in his tenth Champions League group match as coach, but we shouldn't expect that either. In their wildest dreams, RAFC players, supporters, board members, etc. scored a point or even more, but everyone realized that this would be extremely difficult and so it turned out. We would like to see a little more resistance against Shakhtar Donetsk and FC Porto…