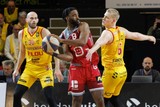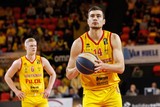 Tonight (8.30 pm) the third game of the Belgian final of the play-offs will be contested in the Lotto Arena. Antwerp Giants hosts Oostende and the score in this best of five is 1-1. The Giants have pole position and want to keep home field advantage intact.
The first final match brought a 63-62 victory for the Sinjoren. The second party brought another demonstration from Ostend on Tuesday: 94-60. So it remains to be seen whether Antwerp Giants will recover tonight after the blow at the coast or whether the West Flemish will open the gate to the twelfth consecutive title with a "steal" and thus victory on the road. "I'd rather lose after a bad match with a thirty-something than after a good match with five points. You now know where your working points are and that you have to protect your "home court", said Antwerp Giants coach Ivica Skelin. Those working points of the Giants are therefore clear. Better shot selection and finishing.
Especially with players like Reggie Upshaw, Brandon Anderson, Ferdinand Zylka and Desonta Bradford. They must give the trio Jean-Marc Mwema, Thijs De Ridder and Ivan Marinkovic more offensive support. The Sinjoren were also heavily under on Tuesday in the rebound. If this season's cup winner wants to bring that first title to Antwerp since 2000, tonight will be a top performance.
"It is 1-1 and no more than that. Okay, we win with a big difference and that of course gives a good feeling. However, I don't think that Antwerp Giants will think about that match when the third final game starts tonight. We shouldn't do that either. Especially confirming all the good and this over the entire selection. Everyone was top on Tuesday and that was important to note," said Ostend coach Dario Gjergja. 5,500 spectators are expected in the Lotto Arena. The last tickets are sold online (www.teleticketservice.com) and at the box office (from 7 pm). The match can of course also be followed live and from 8:15 PM on Play and Pickx + Sports. The fourth game is Saturday at 8:30 PM in Ostend and a possible fifth game on Monday (Pentecost) in Antwerp and already at 5 PM.
Results final (best of five):
Telenet Giants Antwerp-Ostend 63-62
Ostend-Telenet Giants Antwerp 94-60
Program final (best of five):
May 25, 8:30 PM Telenet Giants Antwerp-Ostend
27 May 20.30 Ostend-Telenet Giants
29 May 20.30 (possibly) Telenet Giants Antwerp-Ostend