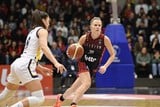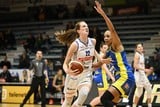 In the French LFB, Belgian Cats Julie Van Loo and Kyara Linskens qualified for the semi-finals with BLMA Montpellier. The Villeneuve d'Ascq of Rachid Méziane (national coach Cats) and colleague Cat Hind Ben Abdelkader awaits in the semi-finals.
What a nail biter the quarterfinals (back and forth) between BLMA Montpellier and Roche was. Roche had won the first leg emt 79-73. In the return, Montpellier triumphed 100-92 and thus just qualified for the semi-finals. Thanks in particular to Belgian Cats Julie Van Loo (21 points, 1 rebound, 8 assists) and Kyara Linskens (17 points, 2 rebounds, 4 assists). Villeneuve D'Ascq awaits in the semi-finals, also a return leg. In the quarterfinals, the team of coach Rachid Méziane eliminated Angers. In the second game, Hind Ben Abdelkader (knee) did not play as a precaution.
Julie Allemand, who has been out for a month with a hamstring injury and is in full rehabilitation towards a comeback, also did not play in the quarterfinals at ASVEL Lyon. Lyon won twice in the quarterfinals against Carolo Flammes. Bourges awaits in the semifinals. The final of the French LFB is a best of three (17, 20 and 22 May).
2 of 2 for Ann Wauters in preseason with Chicago Sky
In the WNBA, assistant coach Ann Wauters also won the second exhibition game with Chicago Sky. This with Indiana Fever 56-81. The American Morgan Bertsch, who pushed Kangoeroes Mechelen to the double (title/Cup) last season, came back on the parquet and was good for 7 points, 2 rebounds and 3 assists in 22 minutes. Saturday will be the third and final exhibition match against Minnesota Lynx. The WNBA kicks off on May 19 with Chicago Sky playing in Minneapolis and versus Minnesota Lynx.