Relegation football can also be spectacular: just ask Eupen and KV Oostende. After an amazing second half with six goals, ten Kustboys grabbed an important point in the final seconds (4-4) after an early exclusion of Tanghe. The Kustboys keep Eupen, which fails to run away from the relegation zone, in their sights.
Six points, three points or zero points: that would be the difference between Eupen and KV Oostende around 8 p.m. Six matchdays before the end, a real cellar cracker was completed at the turning. It was especially necessary for KV Oostende: after the victory against Club Brugge, hopes for retention flared up again, although it had been since the end of August that the coastal boys were able to win again on the move. The match couldn't have started any better. Ambrose was hooked by Davidson entering the box after some good preparatory work from Hornby. Penalty kick, and the French striker was allowed to put the ball neatly past Moser himself. 0-1 for KVO: the well-stocked entertainment section went completely through the roof.
Three goals in fifteen minutes
Where the opening phase was still for Ostend, Eupen gradually took over. Losing was not an option for them either. First Van Genechten fired at Hubert's fists, then Lambert was unlucky when his header narrowly missed the box. With about 65 percent possession of the ball, the pressure gradually became unsustainable for KV Oostende. And when Tanghe hit the emergency brake at N'Dri, the Kustboys were suddenly really in dirty papers. Another 50 minutes with ten: get started. It was not even possible to survive until the break. Gassama got too much space from Ndicka and brushed the deserved equalizer in the square in minute 45. As if that red card wasn't bad enough, Barac was also injured.
The events before half-time laid the foundation for a real spectacle after coffee: during the opening fifteen minutes we saw no less than three goals. KV Oostende first unexpectedly took the lead via Ndicka after a monumental blunder by Paeshuyse, who had just come on, but three minutes later – in minute 59 – the other substitute Prevljak already nodded the equalizer past Hubert. And it was not over yet: on a corner, Hornby was able to head the 2-3 in goal two minutes later. The spectators in the Kehrwegstadion did not know what they saw: it suddenly became relegation football to enjoy.
Resilience
Given the lead and the numerical minority, it was logical that KV Oostende was gradually forced into a hedgehog position again. Because Eupen would try to crack the visitors physically (and mentally) with a new blitzkrieg. Hubert parried a hard shot from Gassama, and Prevljak was a toenail short on a low slider from Peeters. But the equalizer was inevitable: fifteen minutes before the end it was still a prize. Again Rodin and co forgot a Panda in the sixteen, again he was allowed to head in all alone. Sour for Ostend, which Eupen also saw leapfrogging. Charles-Cook pushed the 4-3 finely in the tail of the match past Hubert. KVO didn't seem to get over that sledgehammer for a long time, until it got another corner in minute 97. And it fell right at Rodin's feet: 4-4. Madness.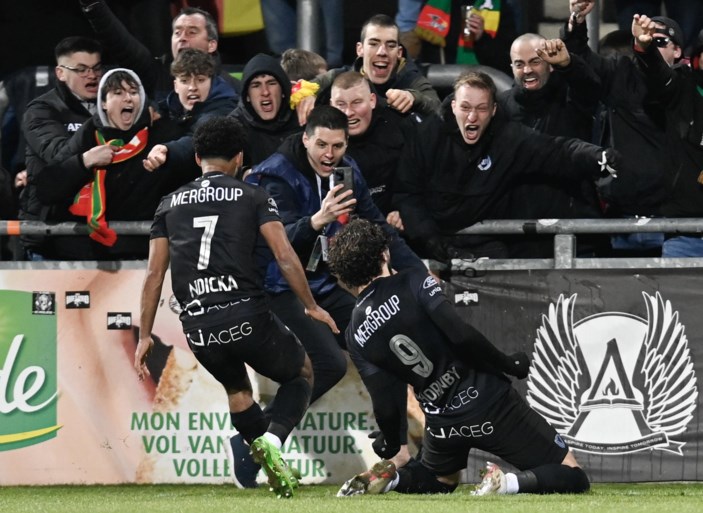 And so KV Oostende keeps Eupen in sight in a relegation battle that promises to be very exciting. Six points or three points: a world of difference in the standings, but on Saturday evening it came to barely a few seconds. And whether the Pandas will swear loudly.
Eupen: Moser, Davidson (55′ Paeshuyse), Filin, Van Genechten, Lambert (89′ Alloh), Bessile (55′ Prevljak), Peeters, Gassama, Magnee, N'Dri, Charles-Cook
KV Ostend: Hubert, Tanghe, Barac (36′ Urhoghide), Rodin, Dewaele (83′ Amade), McGeehan, Ndicka, Sakamoto, Ambrose (68′ Bätzner), Arase, Hornby
goals: 12′ Ambrose (penalty kick) 0-1, 45′ Gassama 1-1, 56′ Ndicka 1-2, 59′ Prevljak (Gassama) 2-2, 61′ Hornby (Sakamoto) 2-3, 77′ Lambert (Magnee) 3-3, 83′ Charles-Cook (Van Genechten) 4-3
Yellow cards: 16' Tanghe, 46' McGeehan, 58' Hornby
Red cards: 40′ Tanghe
Referee: Lothar D'Hondt