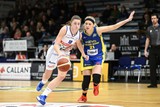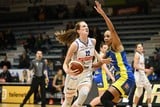 Tonight (6 pm) the final of the Cup of Belgium for the ladies takes place in Vorst Nationaal. Kangaroos Mechelen is the big favorite against Castors Braine towards a second consecutive cup triumph. The final will be broadcast live on Sporza.
The cup final for the ladies gets a dream poster with Kangoeroes Mechelen and Castors Braine. After all, the top two of the Top Division Women (first division) appear at the throw-up. The Maneblussers are undefeated and count 16 out of 16 and the team from Walloon Brabant is in second place with 15 out of 17. The only confrontation (December 18, Winketkaai in Mechelen) this season brought an 81-71 victory for Kangoeroes Mechelen.
"We were not complete then (without the Croatian guard Matea Tadic, ed.) and hope to do better tonight. Kangaroos may be the favorite with the observers but in one game and on neutral ground anything is possible," said Jessica Lindstrom (27) of Castors Braine. The American, ex-Kangaroo (2019-21), is one of the strongholds at Castors Braine with a double-double average (12 points, 10 rebounds). She has now been in Belgium for four years and is considering applying for Belgian nationality. Good news perhaps for the Cats. Castors, who won the Cup five times between 2014 and 2020, are going for a sixth cup triumph tonight.
"In particular, we do not underestimate Castors Braine, rely on our own strength and go for a second successive cup triumph," said Belgian Cat Laure Resimont. Besides Resimont, the Chilean center Ziomara Morrison, the French guard Lisa Berkani, the American Morgan Bertsch and Heleen Nauwelaers are the strongholds in the team of coach Arvid Diels. Before the merger with Sint-Katelijne Waver in 2021, Kangoeroes also won the Belgian Cup twice in a row under the name Kangoeroes Boom in 2010 and 2011. Tonight is the 63rd final of the Belgian Cup for the ladies. The first winner was Vorst in 1961.
Last ten winners Cup of Belgium: 2013 Namur; 2014 Castors Braine; 2015 Castors Braine; 2016 Namur; 2017 Castors Braine, 2018 Namur; 2019 Castors Braine; 2020 Castors Braine; 2021 / (Covid); 2022 Kangaroos Mechelen