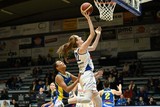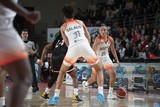 No stunt for Kangaroos Mechelen on the eleventh match day of the Euroleague Women. The Maneblussers lost to the Spanish Avenida Salamanca. In group B, the Mechelen ladies count 1 out of 11 and are no longer eligible for the quarter-finals on their debut in the Euroleague.
Just like in many previous European matches this season, Kangoeroes Mechelen once again played a brilliant first half via Lisa Berkani and Morgan Bertsch: 18-18 and 36-37. Salamanca shifted up a gear in the second half. Via Mariella Fasoula (18 points), and Maite Cazorla (14 points) it went to 44-56 and finally to a 61-75 victory. The top four of the two groups of eight advance to the quarter finals after 14 match days. In group A, Emma Meesseman is in first place with the Turkish Fenerbahce Istanbul. In group B, Kim Mestdagh and the Italian Schio are in the lead.
Kangaroos Mechelen-Avenida Salamanca 61-75Quartz: 18-18, 18-19, 8-19, 17-19Kangaroos Mechelen: Berkani 12, Bertsch 24, Morrison 5, Nauwelaers 7, Resimont 3, Bruyndonckx 0, Denys 7, Rembiszewska 6, Van Gils 41/8th finals EuroCup Women: win for Ben Abdelkader and Lisowa, defeats for Delaere and Geldof In the first legs of the 1/8th finals of the EuroCup Women there was varying success for four Belgian Cats. Hind Ben Abdelkader (2 points, 3 rebounds, 6 assists) won 66-74 against the Hungarian Peac with French Villeneuve D'Ascq. Maxuella Lisowa (2 points, 2 rebounds, 2 assists) triumphed with the Israeli Ramla 85-63 against the Polish Gorzow. Antonia Delaere (5 points, 1 rebound, 1 assist) then lost with the Italian Venice 83-68 against the Israeli Hapoel Holon. Serena-Lynn Geldof (7 points, 1 rebound, 1 assist) lost with the Spanish Zaragoza 69-66 against the Polish Lublin.