His last goal in the Jupiler Pro League dated back to November 6, when AA Gent defeated arch-rival Club Brugge. Against Kortrijk, Ghent's top scorer increased his goal production to eleven. Those two hits also immediately gave his team the three points against a stiff Kortrijk that scored the tying goal but did not get any further. Ghent thus sneaks up to one point from Club Brugge and fourth place.
A must-win, that's how Hein Vanhaezebrouck had called the home game against Kortrijk beforehand. However, the Ghent coach could not count on Torunarigha, so Godeau appeared at the kick-off. Just like Odjidja, De Sart, Nurio and Cuypers by the way. Castro-Montes, Kums and Depoitre started on the bench again.
With the visitors, Storck chose to leave Avenatti and Bruno next to his starting eleven. Perhaps the vital match against Seraing next Wednesday already played a part in this decision. Kadri and Messaoudi did appear at the kick-off in the Ghelamco Arena. Storck also brought in Gueye and Regali.
Dream start for Ghent
The match started at 120 km/h and Ghent had a dream start: De Sart took a free kick quickly and reached Odjidja who pushed the ball to Cuypers. The top scorer from Ghent remained calm and tapped the ball with a dry bang through Atemona's legs, out of reach of Vandenberghe (1-0). Kortrijk equalized at the first opportunity: a free kick by Selemani was worked in by Watanabe. However, the Kortrijk party was canceled because Messaoudi was annoyingly offside. (Read more below the photo)
Ghent continued to combine smoothly, but Samoise's header went just wide. The Buffalos soon had to deal with a blow, because Odjidja was unable to continue after barely 16 minutes due to an injury. Instead, Kums came between the lines. Kortrijk, meanwhile, was finding it increasingly difficult to appear in the vicinity of Nardi. The game became more and more one-way football.
The fire gradually disappeared from the party. Kortrijk put pressure – as Storck wants it – very well, but got away well after half an hour when Hong decided to go wide after a nice, long-drawn-out attack. Still a bit of commotion when Gueye kicked the ball into Godeau's hand from close by. This time, the unlucky bird of the Tawny Owl escaped a VAR intervention and associated penalty kick. On the other side, Ngadeu headed a corner from Hong just wide.
Kortrijk fights again in the match
At halftime Storck brought Bruno after all. After all, together with Wasinski he relieved Regali and Loncar. Castro-Montes, with a mask after he suffered a broken nose against Union, replaced Nurio with the home team. Moments later, Ghent had to change again. Samoise was unable to continue and was replaced by Depoitre, moving Castro-Montes to the right flank and leaving Hong on the left. Cuypers fell back to central midfield. (Read more below the photo)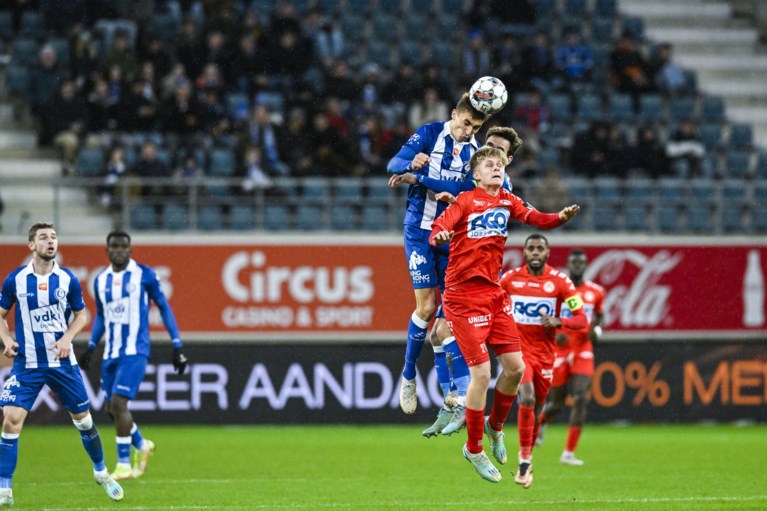 Those many changes of position did anything but benefit Ghent's teamwork and Kortrijk slowly crept into the match again. Without becoming dangerous because Nardi was hardly put to work even after the break. With a corner kick from Kums, the Buffalos had another chance to score, but Cuypers headed wide from close range.
Gradually it also became a bit sloppy at Ghent: Nardi even hooked his own teammate Godeau when he intercepted a ball in his own box. The Frenchman made up for his mistake moments later when Kadri tried from over 20 meters. Great parade. It was the signal for the visitors to increase the pressure. Ghent simply didn't get enough football around the hour and so called disaster on itself.
Cuypers' second goal does not immediately bring peace to the Buffalos
Once again, Cuypers' redemption seemed to come. Recuperation De Sart who immediately played Depoitre and he launched Cuypers who scored his eleventh of the season (2-0). The Buffalos seemed to have their sheep on dry land, but when De Neve, who had just come in, pushed the ball to Bruno, it was immediately 2-1. So it became exciting in a moderately filled Ghelamco Arena. (Read more below the photo)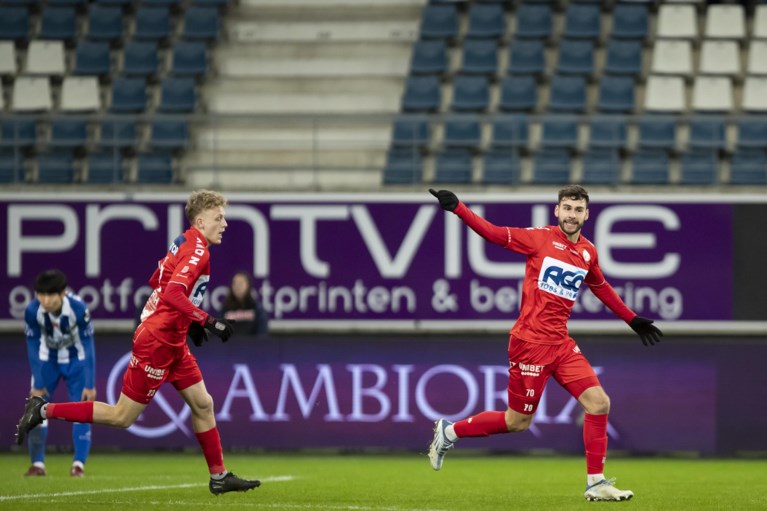 Selemani tried again from a distance, but delivered a drop. Kortrijk's final offensive did get a blow when Sych was seriously injured. Then again Cuypers, but his header was converted into a corner kick by Vandenberghe.
The Buffalos now really dragged themselves to the redeeming final whistle from ref Put. That took a while because seven minutes were added. Kortrijk pressed on, but Ghent held on and, despite another big miss by Salah, who had broken through, took the important points in the battle for the Champions' Play-offs. It was with blood, sweat and tears, but the Ghent fans didn't care about that afterwards.
Setup AA Ghent: Nardi; Okumu, Ngadeu, Godeau; Samoise (51′ Depoitre), De Sart, Odjidja (16′ Kums), Hong, Nurio (46′ Castro-Montes); Cuypers, Salah (90 + 5′ Marreh)
Setup Kortrijk: Vandenberghe; Sych (84′ Silva), Atemona, Watanabe, Mehssatou; Kadri, Loncar (46′ Wasinski), Selemani, Regali (46′ Bruno); Guèye (62′ Avenatti), Messaoudi (73′ De Neve)
goals: 7′ Cuypers 1-0, 69′ Cuypers 2-0, 74′ Bruno 2-1
Yellow cards: Kadri, Okumu, Castro-Montes, Salah
Red cards: no