KV Mechelen can add three gold points after a tight win against KV Oostende (2-1), which hit almost all parts of the target wood. Bates headed in the winning goal in the 70th minute. And when Mebude was ruled out for napping minutes later, the calf had completely drowned for the Kustboys. They remain in a relegation place.
Two teams that have gradually seen the relegation ghost loom in recent weeks, could not afford another misstep on Saturday evening. And certainly not KV Oostende, which had to contend with a whole series of absentees. D'Haese, Urhoghide and Ambrose were suspended, Hornby was also still not fit. That didn't stop the Kustboys from starting sharply. The first good chance was for the young Mebude: he just couldn't put his head against a hard cross enough.
Malinois immediately took over the match and also scored after ten minutes. Hairemans had headed in a beautiful cross from Schoofs, but the party was cancelled: Malede was millimeters offside in a previous phase. To record that, a minute-long intervention from the VAR was needed. Immediately after, Walsh got another big chance. His shot just went over.
But Ostend did not leave its mark either. Amade almost had a world goal. A falling ball was placed over Coucke from 20 meters in a controlled manner, but the attempt exploded on the underside of the crossbar. These are the moments where KVO could use a little bit of luck. That again served its own purpose. Rodin committed a penalty foul on Malede and Boterberg whistled. Oostende again escaped due to the previous offside and an alert VAR.
However, this would not last: time and again KV Mechelen found a lot of space in the back of the Ostend defense. In minute 40 it was still price. Da Cruz got the ball in the box and finished well in the cross (0-1). Just before that, Atanga had once again missed one on one for Coucke. If you do not finish such opportunities, you are lost in advance.
Seven decisive minutes
KV Oostende wanted to do better after the break. And the opportunities were certainly there. Coucke soon made an excellent save. Atanga tried with a heel after a good ball from Mebude and just missed his attempt against the ropes. And the latter also hit the post minutes later. And then followed a moment of sheer bewilderment. Coucke had just parried a shot from Ndicka, and Schoofs suddenly headed towards his own goal. The ball fell on the inside of the post and was swept off the line by saving angel Coucke.
KV Mechelen played with fire during the opening fifteen minutes of the second half. The home fans actually started whistling. The inevitable followed. Sakamoto guided the ball through the axis of the defense and thus served Bätzner: he just had to slide next to Coucke (1-1).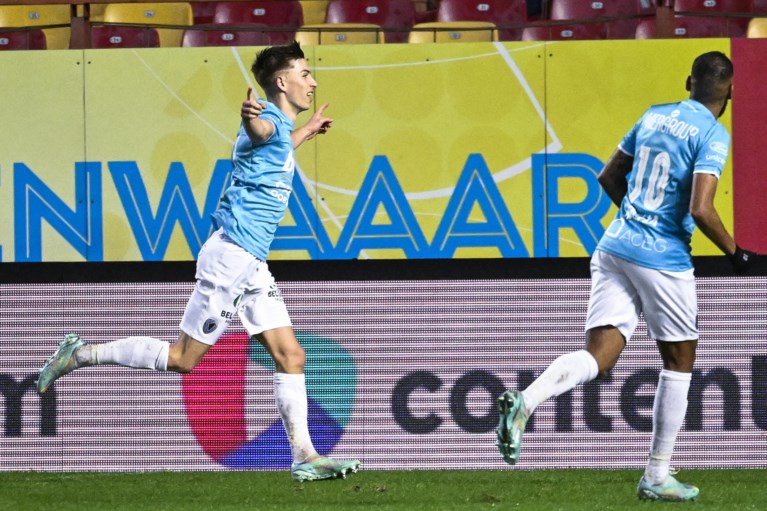 Mechelen eventually woke up, and often looked for a bustling Storm on the left. He provoked a corner that turned out to be of gold value in minute 70. Bates climbed above everything and everyone and beat Phillips, who was badly positioned and should have done much better (2-1). Ostend had not been able to enjoy that equalizer for a long time. The calf completely drowned when Mebude was excluded fifteen minutes before the end. Boterberg had noticed wet kicking through the VAR, so that the young Scot was allowed to take a shower.
In seven minutes, the match was actually in a final fold. KV Oostende sees Seraing approaching a point, while KV Mechelen can add a golden three-pointer. It is five points away from the relegation zone and can breathe a little easier again.