Four goals, two red cards and a gap of no less than fifteen points: Scott Parker will not soon forget his debut at Club Brugge. Genk won an explosive top game 3-1 and goals from Cuesta, Onuachu and Heynen after the match almost degenerated into a brawl before the break. Club took the lead through Vanaken, but then had to give up after a few huge misses and the exclusion of an unhinged Sylla. Do you have a moment?
It was nice to debut like this, for Scott Parker. A packed Cegeka Arena welcomed the national champion with fireworks, confetti and an atmosphere of the big days. There is no other way: Genk is twelve units ahead of Club Brugge. And Sunday was the ideal opportunity to finally knock blue-black out of the title debate. Parker opted for Balanta instead of the suspended Onyedika and surprisingly preferred Buchanan over Mata. The usual suspects played at Genk – newcomer Sor sat on the couch.
We felt it almost immediately in the stands: there was high tension on this match. On a bad field – the ball rolled very stiffly – we got to see a bitter start. Back then it was still linked to football. Club threatened for the first time via Buchanan's cross, which was just not extended by Jutgla, Skov Olsen, who had recovered, then placed a ball in the hands of Vandevoordt. Genk had a hard time and also fell behind. Lang and Meijer combined to the back line, where the latter left Heynen childishly on the spot. An infiltrating Vanaken had to slide in (0-1). Parker remained stoic about it.
Kot in brand
He was right: in minute 25 the signs were already in balance. A short corner was painted on Cuesta's head, who headed the ball past a scrambled Mignolet into an empty goal. The start of a blistering topper, you think. But what followed was more like a street fight. On the half hour Paintsil attacked Lang – strangely enough, the latter also received a yellow card. Five minutes later, the fence was completely off the dam when Vrancken suddenly got a red card from ref Visser. The Genk coach made (too) hard his ears after a light yellow card for Munoz and was not calmed down. Visser had lost control for a while – we would almost forget that Mignolet prevented Onuachu from scoring a goal before half-time. And once again the room was on fire: Sylla took down a Paintsil that was storming after a misunderstanding. The entire stadium wanted to see red, Visser incomprehensibly stuck to yellow. It was clear: the peace had to bring back the peace.
Fortunately, football was again thought of during the second half. Genk took the initiative and always had to take the lead through Heynen, who could not punish a weak intervention by Sylla. But also on the other side it always had to be price. A razor-sharp counter ended up in Lang's feet. He had to score or lose to Jutgla, but did neither. We were then an hour away: this topper had to get a winner. Parker brought in Yaremchuk and Rits – who played for the first time after eight months of convalescence – for Jutgla and Balanta. But the goal fell on the other side. A beautiful combination between El Khannouss and Paintsil ended with Onuachu, who put Mechele in the wind and scored (2-1).
Sylla strikes
Club was virtually fifteen points behind, a scenario that they absolutely wanted to avoid at blue-black. Skov Olsen seared Vandevoordt's fists, but the biggest chance for an equalizer was crushed by Yaremchuk. Rits was beautifully released by Vanaken and lost to the striker of 16 million euros. He pushed an indispensable opportunity at the level of the small rectangle next to it. You had to see it with your own eyes to believe it. The neck shot for blue-black followed moments later when a loose Sylla still got red. After a foul on Onuachu, the young Ivorian protested fiercely with a yellow card behind his name. Why? No one knew, but Club was allowed to continue with ten for another fifteen minutes. And of course the death knell followed. Heynen walked in a ball from El Khannouss with a bit of luck, and Mignolet didn't look good there either. Game played in minute 81, as Club threw in the towel.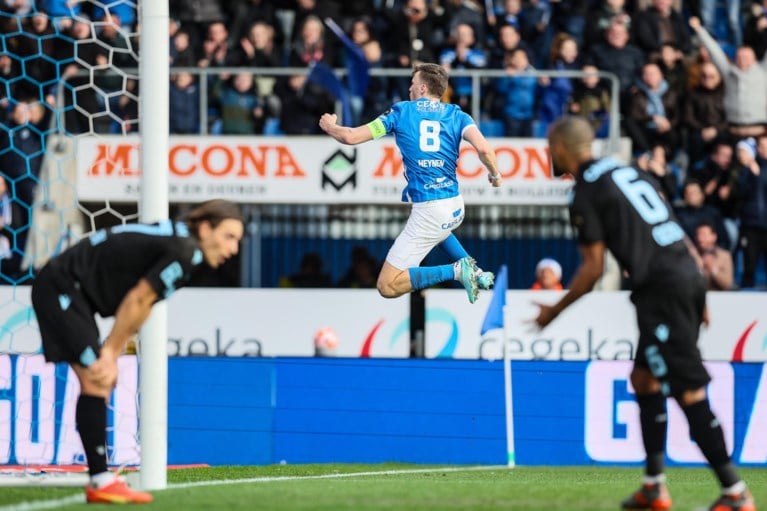 The end of the match was another piece of gallery play for Genk, which therefore remains on track as leader. Due to the defeat of Ghent, Club Brugge remains in the top-4, but Scott Parker has a lot of work to do. And a new national title: that will not be for this season.