Tragic theater by the sea: Seraing committed a hold-up at KV Oostende (1-2), which ended the match with nine. A lightning-fast opening goal from Bätzner was erased by Mvoué and Vagner, and referee Laforge also claimed a leading role with two red cards in three minutes. More than ever, KVO now threatens the danger zone and relegation.
After barely one minute at sea, Seraing now seemed really ripe for relegation. It had already lost six times in a row in the competition. And if a (really bad) corner from Rocha also falls right into Bätzner's feet, your opponent will start such a basement cracker with wings. The German was given plenty of time to shoot Martin and immediately put Ostend 1-0. Seraing is virtually eight points off a safe place in the standings. We really didn't see that getting better. (Read more below the photo)
Not only because of that early backlog: the Metallo's were simply too light in quality to play under the high pressure of the Kustboys. When there was hunting, Seraing panicked. With some annoying errors as a result. Ostend played football in a seat, but did not do enough with the chances it got. A problem that has been dragging on for months.
A dangerous counter went wrong for Ambrose, and the latter also forgot to score after a well-cut free kick from Sakamoto. And as long as it remains 1-0… Indeed. Just before the break, KVO got a first blow. Mvoué found the ball with luck in his feet in the box – had Seraing been there before? – and curled the leather neatly past Phillips. 1-1 at half time, and that was as undeserved as it was surprising.
Twice red in three minutes
Anyone who wanted to do a golden thing in the relegation battle had to score after the break. And again KVO had understood that message better. It combined – partly through a strong Sakamoto – well forward. But enforcing real opportunities that have been played? It remained difficult. Just before the hour Ambrose asked for a penalty twice in thirty seconds, Laforge then treated him to yellow for a schwalbe. Except for a rare counter, Seraing initially had to pump or drown to grab a point. (Read more below the photo)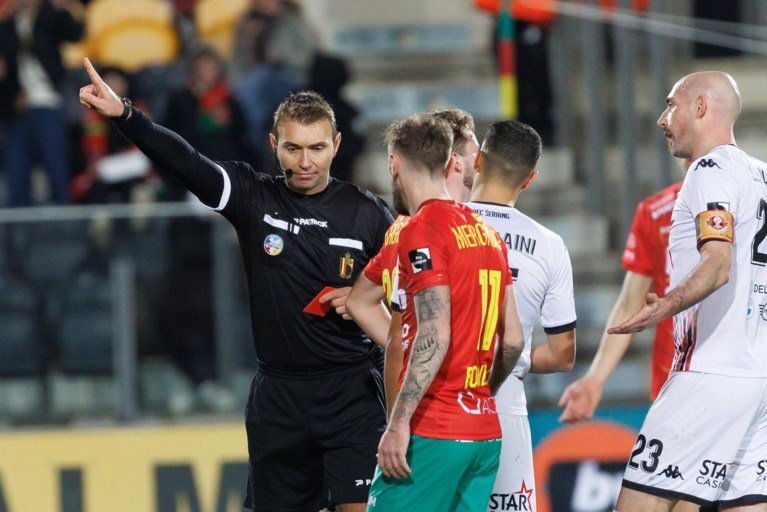 Even more than before the break, it became a game of one-way football. But Ostend still hadn't learned its lesson. A detached Vagner was allowed to slide the 1-2 calmly into goal with fifteen minutes left on the clock. The stadium fell silent and many a Kustboy grabbed his hair. Especially when Urhoghide and D'Haese got red in three minutes. The pots boiled over, and the sinking ship suddenly had a crew of barely nine players. It thus became another tragic theater by the sea. Also for Mebude, subbed in minute 78. He was allowed to rest for Capon in minute 85.
From a six-pointer to a dramatic conclusion: KV Oostende suddenly seems like a bird to the cat. If Kortrijk takes points at OHL on Sunday evening, KVO will end up in the relegation zone. And if you can't beat a (weak) runner at home, a scenario threatens that KVO has escaped – with the necessary luck – for several seasons now. The coast team is more than ever a relegation candidate.