Thanks to an early and also cheap penalty, converted by Nacer Chadli, Westerlo won with the smallest difference against Cercle Brugge, a direct competitor in the battle for eighth place.Westerlo therefore did a good job and immediately reached the 30 point mark. Thanks to the victory, it is now in sixth place next to Standard.
Cercle was the first opponent for Westerlo when they returned to 1A last summer and also enjoyed that honor for the first match in 2023. On that sweltering Sunday evening in July, Westerlo won quite easily against green-black, which was then still led by Dominik Thalhammer . Under his successor Miron Muslic, Cercle set up a huge catch-up race so that all relegation worries are gone and they can even compete with Westerlo, Leuven and STVV for that coveted place in the top eight. In that respect, Cercle-Westerlo was an interesting party.
Muslic will have to miss revelation Ravych in the center of the back for the next six weeks, but Miangue was finally fit again and took his place. Deman was also missing due to suspension and his replacement Velkosvki had hoped for a better start. The Bulgarian, who is out of contract and is allowed to leave, already gave a push in the back of Akbunar on a cross from Chadli in the second minute and De Cremer immediately pointed to the spot. It raised eyebrows, but the VAR (Wim Smet) also thought it was right and Chadli gave Westerlo the lead.
A dream start, of course, but Cercle reacted as we are used to. The home team put a lot of pressure but the chances did not follow. Westerlo kept it tight and also played football nicely. Cercle came closest to the equalizer via Denkey, but the French Togolese's shot went wide. There was a striking amount of waste in the game of both teams and Bolat also committed sloppiness. Especially when playing football and when he played right into Hotic's feet, Ueda kicked in the cross, but first assistant Michael Geerolf rightly hoisted the flag. 0-1 halfway and a rather flattered lead for the visitors.
Bolat keeps Westerlo straight
Reynolds had some shoulder problems and stayed in for the second half and was replaced by Jordanov. Again the first chance was for Westel, but Majecki was able to box Maxim De Cuyper's shot into a corner. Westerlo was starting to have a hard time getting under the pressure of Cercle. An attempt by Hotic was also insufficiently blocked, but the rebound was completely harmless. For a goal it was waiting for a miss left or right. Both coaches already made a double substitution and it could have been a golden substitution for Muslic as Yann Gboho immediately took his chance, but Bolat made a good save and kept his team upright.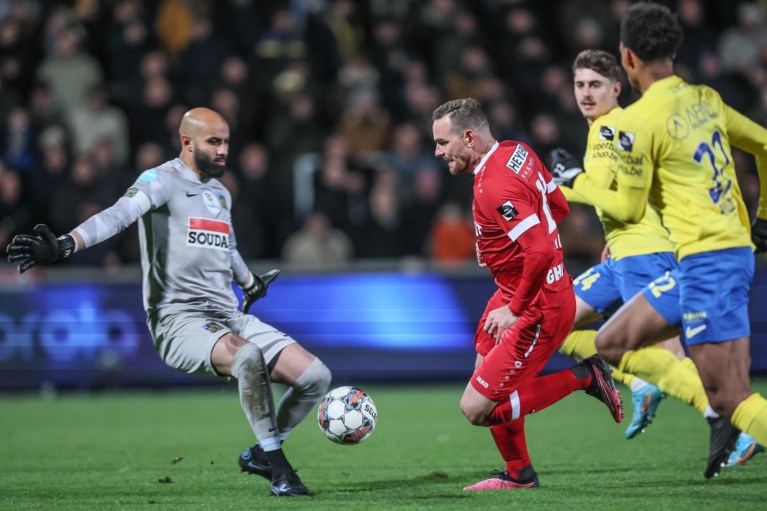 The Westel goalkeeper also picked up the high crosses that followed with ease. Abu Francis, the other substitute, also took his chance but aimed over. However, Cercle continued to insist, also because it probably knew that Westerlo often had to lose out in the final phase. Charles Vanhoutte and Emilio Kehrer, the third substitute, tried again, but Bolat got the hang of it and now grabbed all the balls. To the frustration and anger of the Cercle fans who started throwing projectiles at Bolat. Another six minutes of added time followed in which Cercle kept pressing but in vain. Westerlo did a good job in the battle for a place in the top eight and now even enters the top six alongside Standard.
Circle Bruges: Majecki; Popovic (81′ Kehrer), Daland, Miangue; Somers, Lopes (68′ Abu Francis), Vanhoutte, Velovski, Hotic (68′ Gboho); Ueda, Denkey
Westerlo: bolat; Reynolds (46′ Jordanov), Neustädter, Tagir, De Cuyper, Chadli (81′ Vetokele); Madsen, Fixelles (88′ Van Den Keybus), Akbunar (68′ Perdichizzi); Foster, Nene (68'Van Eenoo)
goals: 6′ Chadli (penalty kick) 0-1
Yellow cards: 20′ Fixelles (foul), 23′ Tagir (foul), 28′ Miangue (foul), 41′ Akbunar (corruption of play)
Red cards:no
Referee: Wesley De Cremer