Antwerp knows how to win again. After five league matches without a win, AA Gent took the measure: 2-0. Balikwisha made it 1-0, Janssen made it 2-0 from the spot after a penalty kick that made Hein Vanhaezebrouck wave his arms. With a view to participation in the top four, that was a very important victory: number five AA Gent now follows five points.
One week something like that is penalty, the next week it isn't. Bruno Godeau made a sliding effort in the box and got the ball, whether or not deflected via his jaw, against the support arm. The replay revealed little clarity. Lothar D'Hondt pointed decisively at the spot, and Hein Vanhaezebrouck couldn't understand that. Vincent Janssen, who had been given preference over Michael Frey, did not care: the Antwerp striker made it 2-0 just after the hour mark. Match played.
Antwerp had taken the lead in a pleasant opening phase through a wonderful goal from Michel-Ange Balikwisha. Janssen first had a shooting chance, the rebound was for Balikwisha. The flank player searched and found the far corner in a controlled manner. Beautiful goal for 1-0.
As said: those first minutes were nice to follow. Sven Kums left the 0-1 from close by – if he had scored after three minutes, then … -, a slider from Avila stranded on Paul Nardi's fists. The opening goal was in the air, so it also came via Balikwisha, which seemed to us to be a harbinger for a wonderful football evening. However, that was disappointing: the sequel was a lot less. There was a lot of fighting and hot-tempered football. The Tawny Owl tasted the best, the neutral enthusiast was perhaps less charmed.
Mark van Bommel will not have minded that it was not flashy for the entire match. After five league matches without a win, it was especially important for Antwerp – which achieved a good level in the last matchdays – to grab the three points again. And that against a direct competitor for the top four: the evening could not have gone better for RAFC.
Wheel case up Butez
AA Gent left Deurne-Noord with a bitter feeling. There were times when it could develop pressure, there were also opportunities – Hjulsager kicked Butez -, but in the end it was left empty-handed.
Antwerp did an excellent job in the ranking. It climbed to second place next to Union – which will play against Anderlecht on Sunday -, but above all: it put AA Gent on eight points. A significant gap. Can it still be bridged?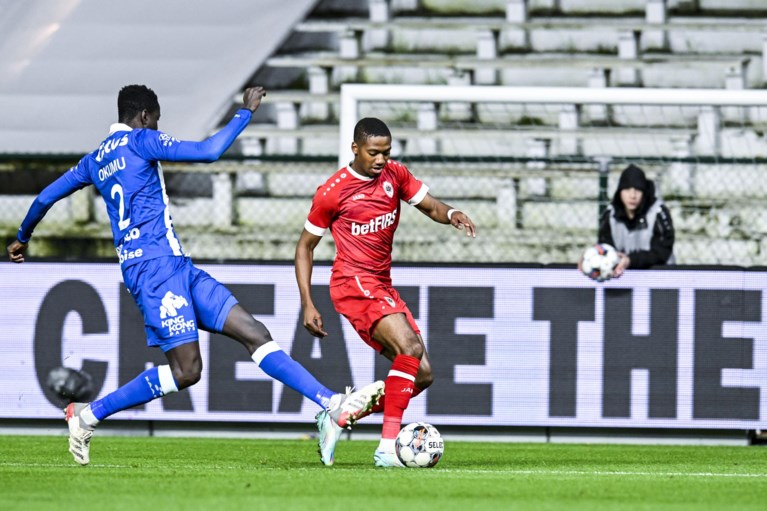 Setup Antwerp: Butez; Bataille, Alderweireld, Pacho, Avila; Muja, Stengs, Vermeeren, Ekkelenkamp (74′ Gerkens), Balikwisha (74′ Nsimba); Janssen (77′ Frey)
Setup AA Gent: Nardi; Okumu, Ngadeu, Torunarigha (35′ Godeau, 69′ Odjidja); Hjulsager (78′ Nurio), De Sart (69′ Samoise), Kums, Castro-Montes; Hong; Wrong, Cuypers (69′ Depoitre)
goals: 10′ Balikwisha 1-0, 64′ Janssen 2-0 (pen)
Yellow cards: Nardi, Ekkelenkamp and Bataille
Red cards: /
Referee: Lothar D'Hondt