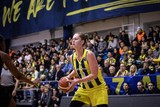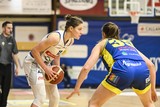 Emma Meesseman opened 2023 and in the Euroleague Women with a great performance. The Belgian Cat led Fenerbahce Istanbul against Polkowice to a big win. The Turkish team immediately takes over the lead in group A from the Polish team. In group B, Belgian champion Kangaroos Mechelen and Italian champion Schio will play in the Euroleague with Kim Mestdagh on Thursday.
Write it down: Fenerbahce Istanbul is a big favorite for the title in the Euroleague Women this season. Emma Meesseman won this trophy four times with the Russian Ekaterinburg, just like Ann Wauters.
The Turkish team is complete with the arrival of American superstar Breanna Stewart, Meesseman's teammate at Ekaterinburg, and made Polkowice firewood in the first game of 2023. Emma Meesseman led Fenerbahce to a 111-61 victory with 25 points (11 on 13 shots, 3 on 4 free throws), 7 rebounds and 3 assists. With 6 out of 8, the Turkish team takes over the lead from Polkowice in group A.
Kangaroos Mechelen Thursday in Sopron looking for European stunt
Kangaroos Mechelen will play the eighth match day of the Euroleague Women on Thursday (6 pm) in Sopron, Hungary. The ladies from Mechelen are in last place in group B with 1 out of 7. The first leg resulted in a 62-91 defeat against Sopron in De Schalk in Willebroek. If Kangoeroes Mechelen still has a chance at qualifying, a European mega stunt is in order. Kim Mestdagh also plays in group B with the Italian champion Schio. Mestdagh also plays in Hungary tonight and against DVTK Therm. Schio is tied for first place with 5 out of 7. The top four of the two groups of eight have qualified for the last eight of the Euroleague Women.