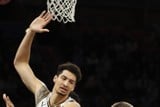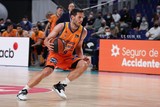 The last Euroleague match in 2022 brought Belgian Lions Ismael Bako and Retin Obasohan and respectively Virtus Bologna and ASVEL Villeurbanne brought wins and losses.
Ismael Bako (2 points, 1 rebound) won with Virtus Bologna after an exciting match 92-88 (halftime 46-46) against the Turkish Fenerbahce Istanbul. With the Italian team, it was mainly ex-NBA player Marco Belinelli (18 points, 6 on 9 shots and 4 on 4 free throws) who pushed the Italian team to victory. A strong playing Retin Obasohan (12 points, 4 rebounds, 3 assists) lost with the French ASVEL Villeurbanne 79-91 (halftime 49-37) against the German Alba Berlin.Virtus Bologna is tied for eleventh place with a 7 out of 16. ASVEL Villeurbanne counts 6 out of 16 and is in fourteenth place.
Van Rossom is working on a comeback
Sam Van Rossom, the third Belgian in the Euroleague, saw Valencia lose 90-79 to the Italian Milan. Van Rossom is working hard on his comeback after knee surgery. Valencia is in shared eleventh place with 6 out of 16. The Euroleague, say the NBA of Europe, has eighteen teams and the top eight have qualified for the quarter finals after 34 match days. The quarterfinals are best-of-five. The Final Four (semi-final, final and consolation) will take place on May 19 and 21, 2023 in Kaunas, Lithuania.