Cercle Brugge is red lantern off, but still has a bad feeling about the eighth match day. Halfway through the derby against KV Oostende it was 2-0 in a seat but five substitutions by Yves Vanderhaeghe opened the match again. Two justified penalty kicks helped the coastal team alongside. Vanderhaeghe is therefore getting his money's worth after he was kicked out at the end of last year after a victory by Cercle, which is currently not making much progress with a point.
Koen Verdruye
To speak of a six-point match in mid-September is a bit early and tends towards scoreboard journalism. Especially because in the right column of 1A everything is together on a handkerchief. But it was already a daily item before the season: with three relegates there is more pressure at the bottom than ever before and because Cercle missed the start (5 out of 24), the Association has been very last for a few weeks and then much, if not everything, is question asked. At KV Oostende that seems to go a little more smoothly, but 9 out of 24 is nothing to write home about, of course. Also by the sea they realize that not too much can go wrong. The coastal team had won the important home game against Eupen, another relegation candidate, last week and therefore had just a little more breathing room before the match. Yves Vanderhaeghe naturally chose the same players, he only had to replace the suspended Albanian with Robbie D'Haese. For the KVO coach, it was the first time that he returned to Cercle since he was fired at the end of November last year. Notabene the morning after the win against KV Mechelen and two weeks after the death of his father. It caused a shock in the world at the time, but time flies and people forget quickly. It was therefore no longer an item for Vanderhaeghe in the run-up. "In the first place it is about the points and in those kinds of matches also the details," responded the sporting boss of Ostend.
Dominik Thalhammer, his successor at Cercle, made a name for himself here as the man of the press, but he took a different approach against a direct competitor. The strikers did not immediately jump in this time and looked a bit more out of the tree. The result was half chances. There was a free kick by Dino Hotic, but the specialist shot straight into the Ostend wall.
Denkey from antihero to hero
The first time a goalkeeper really had to work was after exactly 23 minutes. In terms of creativity, Cercle has to rely mainly on Hotic and it was great how he brought Denkey into position, but Hubert (ex-Cercle) saved well with a sweep. The derby immediately burst open and especially the home team looked for the opening goal. But after eight matches it was already clear that Cercle is struggling with a glaring lack of finish. Barely three goals this season is the painful result and it also came up against Ostend. The Japanese Ueda, for example, arrived with considerable honors, but he doesn't seem like a real finisher. It was questionable how he wildly overstepped a great opportunity. Cercle already earned more then, but was also unlucky that Van der Bruggen hit the bar, although there was a moment of doubt whether his ball had not crossed the line. Not so, but a new opportunity soon followed. The sometimes quite clumsy Medly hooked Hotic into the box and there is no doubt that the ball had to hit the spot. But even from nine meters, Denkey couldn't get the ball into the goal. He kicked so badly that Hubert was able to get the ball out of the corner. Fortunately, Denkey was able to quickly make up for his mistake. From the ensuing corner, Hubert couldn't control Popovic's hefty header and Denkey tapped in the rebound with his left. So the French Togolese from anti-hero to hero. It gave Cercle wings and Ueda, yes he, took care of a double lead before the break by thanking Van der Bruggen's assist. 2-0 and Cercle on Roses. Or not?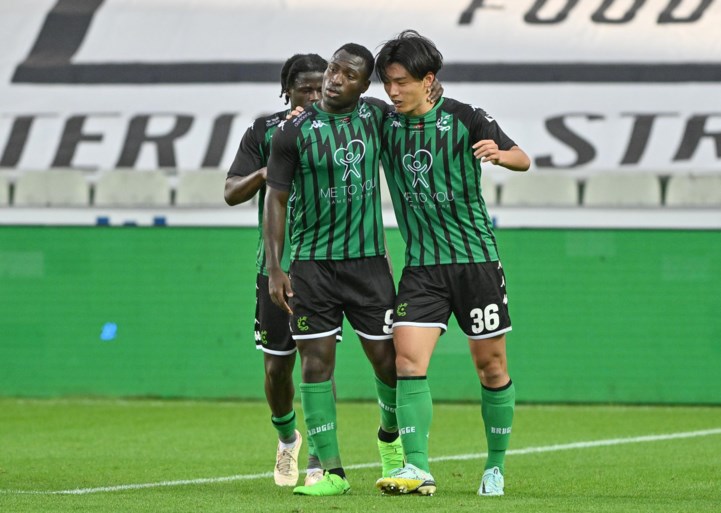 Triple switch
It remained the big question at the start of the second half: will this be a measure for nothing or can Ostend still force something? Not with these eleven Vanderhaeghe thought and he made a triple substitution. Urhoghide, Bätzner and Rocha were allowed to stay inside with a big insufficient. However, the replacements Mc Geehan, Berte and Katelaris did hardly better at first. It sometimes hurt the eyes to see Ostend scratching both behind and in the front. They could therefore consider themselves fortunate that Ueda quickly fell back into his old habits and that a dot of a new chance went head over heels again. Just when Atanga was ready to fill in, KVO broke out again. Substitute Berte, however, found Majecki in his way and Miangue took Mc Geehan's rebound off the line. The substitutes then tried to force something and Vanderhaeghe also threw his last two fresh forces into battle with Atanga and Capon.
VAR still opens match
Not Ostend but the VAR still broke the match open. Decostere got a ball to the arm but Lardot let the play continue. The VAR thought otherwise and a second penalty followed. Majecki pulled out with a masterly reflex and saved Ambrose's penalty. Sakamoto was on his toes and completed the rebound perfectly for yes….Ambrose. The devil was really in the tail for Cercle because there was even more disaster with a second penalty kick. The second half was not Robbe Decostere's as he knocked down Ambrose and this time Lardot had seen it right away. Ambrose claimed the ball and this time Majecki didn't stand a chance. Talk about a turnaround. Ostend had gained wings and even got the chance of the 2-3. In a nerve-wracking final and no less than five minutes of added time it remained 2-2. A golden point for KVO and Yves Vanderhaeghe, two lost points for Cercle.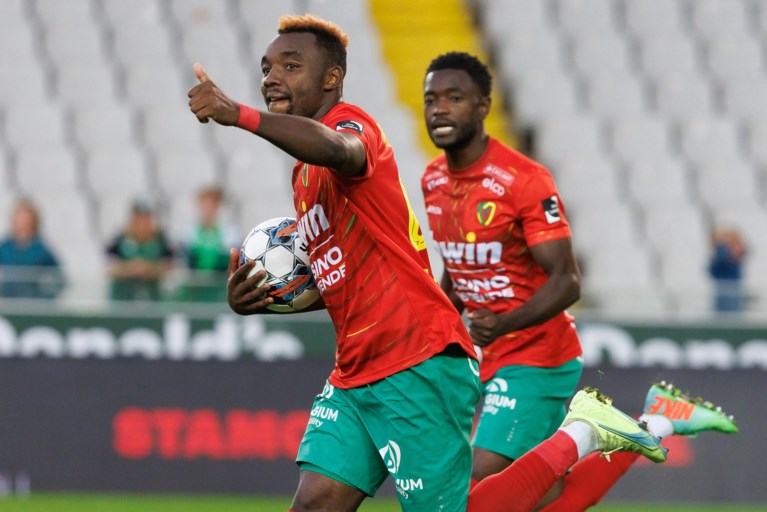 Cercle Brugge: Majecki, Popovic, Marcelin (71′ Daland), Decostere, Miangue (72′ Rodrigues), Lopes, Van der Bruggen (64′ Vanhoutte), Hotic, Deman (88′ Gboho), Ueda (88′ Wilke), Denkey
KV Oostende: Hubert, Urhoghide (46′ Katelaris), Tanghe, Medley (65′ Capon), Rocha (46′ McGeehan), Dewaele, Sakamoto, D'Haese, Bätzner (46′ Berte), Ambrose, Hornby (60′ Atanga )
Goals: 38′ Denkey 1-0 , 44′ Ueda (Van der Bruggen) 2-0, 76′ Ambrose (Sakamoto) 2-1, 82′ Ambrose (penalty kick) 2-2
Yellow cards: 9′ Urhoghide, 41′ Rocha, 75′ Popovic
Red cards: 90′ Heitor
Referee: Jonathan Lardot