Elise Mertens.
Photo: BELGA
The double duo Elise Mertens -Alison Van Uytvanck has found each other. They share the room in the Olympic village. Now the magic on the field, because they have never played an official double match together. Wimbledon winner Mertens: "I can easily adapt." Van Uytvanck: "I see no problem."
"I didn't expect that, I thought Elise would be able to share the room with her coach (Robbe Ceyssens, hjb), who is also her boyfriend. But apparently men and women are not allowed to share a room in the Olympic village. Everything is fine for me." Alison Van Uytvanck laughs. Mertens: "Alison and I eat together, we do things outside of tennis, that's nice. And I can last two weeks without Robbe (laughs)."
At the moment there is no better double player than Elise Mertens: she is number one in the world and brand new double laureate of Wimbledon. "A medal is expected almost automatically because I'm doing so well in doubles. But the Games are a different setting than a grand slam tournament, and I now have a different partner."
How compatible are Mertens and Van Uytvanck? They sometimes trained together as a double duo in the Fed Cup, but they never played an official tournament together – Mertens has already played with Kirsten Flipkens, but she is in the rags basket.
That doesn't sound very promising. But Mertens is like a player who proved that she adapts to her as an accomplished chameleon fellow travelers. She excelled with Demi Schuurs, she won grand slam tournaments with Aryna Sabalenka, she won Wimbledon with Su-Wei Hsieh. Mertens: "Aryna played with a lot of power, Su-Wei with a lot of touch, and both succeeded. I can easily adapt – I formed combinations with three players on my way to number one in the world. I will determine the tactics, in consultation of course." Van Uytvanck: "I know Elise fairly well, she knows me fairly well. We know each other's strengths and weaknesses. I don't really see a problem."
Wasn't it a logical option to ski a few tournaments together during the season? Yesterday their first Olympic double training was on the program, against the Dutch girls. Mertens: "That was agreed upon. Because Alison didn't know then whether she could qualify for the Games. Now, she has a good serve, and my net play should be able to complement that."
Van Uytvanck: "Elise has her regular partner during the year, I also prefer to play with Greet (Minnen, hjb). That makes sense, she is my girlfriend."
Never played an official doubles match, for the first time at the Games, and immediately an Olympic medal? It just might. After all, most Olympic double duos are occasional couples. Mertens: "Singles is normally a priority for me in the grand slam tournaments. But this is the Games. Maybe the chance of a medal is slightly higher in doubles." No lack of preparation. Has she practiced the Brabançonne? Immediately Mertens begins to sing the Belgian national anthem.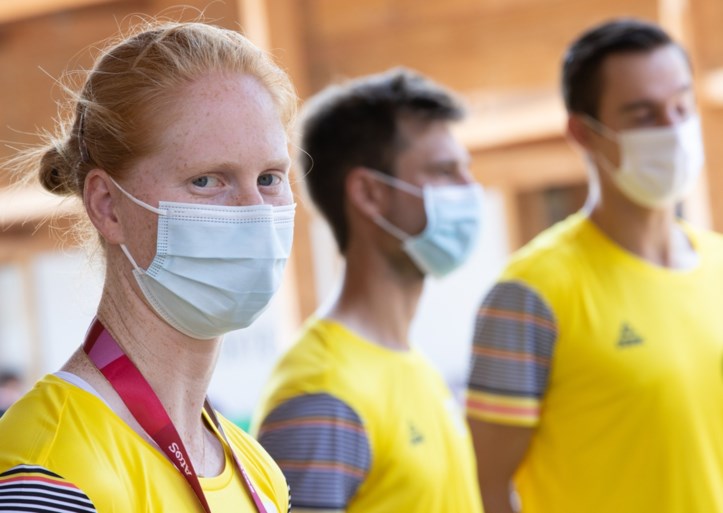 .