The KNVB has put Louis Van Gaal at number one in the search for a new national coach. The Dutch Football Association came to this after an internal evaluation of the failed European Championship. The management of the KNVB stayed in Portugal yesterday, where Van Gaal regularly stays, for a conversation with him. Next week, the association hopes to be able to present Van Gaal for a third term as national coach of Orange.
Van Gaal, who will be celebrating his seventieth birthday in a month, would certainly be open to it. He told the French L'Équipe a while ago that he would consider it "an honor" to become national coach of Orange again. "I'll definitely think about it." Salary wouldn't be a problem at all. Van Gaal does, however, make high demands on matters such as staff and other preconditions for performance.
The association comes to Van Gaal because there is an immediate need for the right man in the right place. After all, the Netherlands is facing important months. In September, the Orange squad will resume qualifications for the World Cup in Qatar. And don't let the Netherlands stand in a very good position for that. In a group without top countries, it is currently only second with six points. It lost the opening game 4-2 to Turkey, which leads the group. Montenegro and Norway also have six points.
An important triptych awaits the Netherlands in September. Orange will then compete against direct competitors Norway, Turkey and Montenegro. Only the group winner qualifies directly for the World Cup. That is why they realize at the KNVB that they must immediately have the right coach. A foreigner or coach without international experience would not qualify. A so-called intermediate pause is also out of the question.
No player's first choice keus
What you need is a top coach. And the Dutch Football Association is thinking of Louis Van Gaal. The idiosyncratic trainer previously coached the Orange squad, where he even took bronze at the 2014 World Cup after the 2012 European Championship fizzled out. But for a number of years, Van Gaal's coaching career has been put on the back burner. His last job as a trainer dates back to 2016 at Manchester United. Now he skips between Portugal and Switzerland and is also an analyst.
In the search for a new national coach, Louis Van Gaal's name also fell last summer as the successor of Ronald Koeman, who then opted for an adventure at FC Barcelona. Van Gaal was never approached in concrete terms, although he was open to it. "But then I was accused of an open application," he recently said. "A donkey does not strike the same stone a second time."
Striking: Van Gaal would not be the players' first choice. They would like to see someone like Ronald Koeman for the group, but at the same time let the KNVB know that they will not oppose Van Gaal's appointment. Although they were not happy about the way he portrayed the group of players a few weeks ago as a "glorified bunch of stars".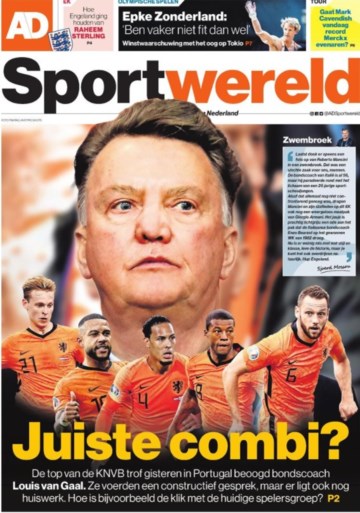 .