Belgium is two European laureates richer. In the service of the Italian top team Monza, Laura Heyrman (27) and Lise Van Hecke (28) won the CEV Cup, the second European cup in volleyball, on Tuesday evening. "A milestone in our careers", the Waasland duo exult.
After a 3-0 win in the first leg, Monza also put Galatasaray aside in the return with the same figures. "It is my first international cup after nine years abroad, so yes, this triumph means a lot to me," said Heyrman. "And it's nice to be able to share it with a fellow countryman." Van Hecke cannot but agree. "It is not of course not a Champions League, but my pride and joy are no less. Call it a milestone in our career. With Piacenza I have already become Italian champion, but this cup still stands out. "
As it goes in the covid spring of 2021, in Istanbul only a handful of people could watch from the stands. There were no big plans for a wild night anyway, Heyrman emphasizes. "The covid measures are pretty strict here. We will make a toast together with the team and some supervisors, but that's it. We are not allowed to leave our hotel anyway. " Van Hecke adds. "Moreover, we have to get on the plane very early on Wednesday morning and on Saturday we will start the play-offs of the Italian league, in which so many clubs are competing. So even this title shouldn't hurt our focus. "
Monza is located in Northern Italy, a place where the pandemic struck devastatingly. Eleven of the thirteen players, including the Waasland duo, became infected. "But in the meantime all the after-effects have been consumed. We just feel in top condition again. And hopefully it won't happen to us anymore and we can finish the remaining competition as it should. "
Not a first
It is not an absolute first. Britt Herbots previously lifted the same cup in 2019 (with the Italian Busto Arsizio) and Frauke Dirickx in 2007 (with the Spanish Murcia). And in 2001, the then Asterix Kieldrecht was the first Belgian indoor club to win a European title. Heyrman: "Whether our performance is underestimated? Volleyball is simply not the most popular sport in Belgium. The results of the national team have improved a bit, but still … With Monza, we are going through a strong season apart from this European campaign, but that has little response to the press and public in Belgium. "
Fortunately, even top-level volleyball players can still be called on the day of their European final. "We think it's great that Het Nieuwsblad wants to interview us," explains Van Hecke. "Everyone wants a little recognition and attention."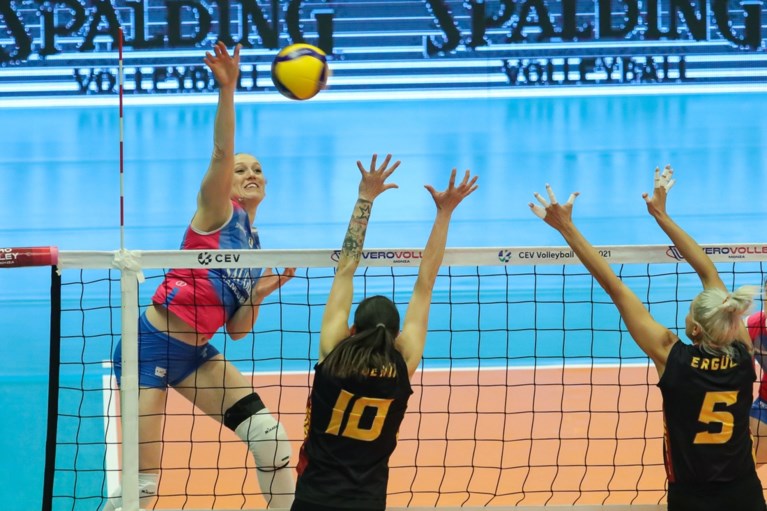 .