What an offensive performance by Antwerp Giants! The Sinjoren won on the road and without a real center at Okapi Aalst with 95-111. American guard Sterling Gibbs led the Giants to the spectacular victory with 30 points (6 out of 7 three-pointers) and 6 assists. Captain Dave Dudzinski (24 points, 7 rebounds) was the second star of a young and spectacular Telenet Giants Antwerp. With 9 out of 11, the team of coach Christophe Beghin with Ostend (9 out of 10) and Bergen (9 out of 11) will continue to compete in the top of the EuroMillions League.
The new American power forward Phil Cover is now in quarantine in his apartment in Antwerp. A second foreign reinforcement, a center, will normally be presented on Monday.
A young Telenet Giants Antwerp put on a real offensive show in the first half. After all, the physically and much larger Okapi Aalst was caught in speed. The Giants showed a lot of commitment, were especially not under in the rebound and took distance via Sterling Gibbs and Dave Dudzinksi: 21-26 after the first quarter. Okapi Aalst suffered a lot of ball losses but came through Cameron McGriff after 28-30 and at 31-30 in the lead. The young Giants were not upset and with Thijs De Ridder, a physically strong Niels De Ridder and the class of Sterling Gibbs it went to 35-41 and 38-50. The weak defending Onions went to the dressing room with a 49-57 deficit.
In the beginning of the second half Okapi Aalst tried to unpack with a remonte: 52-59. Niels De Ridder, Vincent Kesteloot and Niels Van Den Eynde also scored and the Giants continued to rule: 52-64.
Halfway into the third slide, an incredible Sterling Gibbs propelled Telenet Giants Antwerp to a 56-76 maximum bonus. 20-year-old Niels De Ridder was a rock in the surf, his peer Vrenz Bleijenbergh picked rebounds and put blockshots and the Giants continued to dominate: 62-81. Vladimir Mihailovic, however, also continued to fire three-pointers and already scored 30 points after three quarts, just like Sterling Gibbs. Niels Van Den Eynde and Vrenz Bleijenbergh also dropped bombs and the Giants entered the final quarter with a 73-90 bonus after an offensive spectacle. In the last slide the Onions could no longer make a fist. The Giants pushed through to 75-95 and with Niels Van Eynde and Sterling Gibbs together on the parquet, Vincent Kesteloot rounded the century: 84-101. The Giants dropped 13 out of 26 bombs, gave 26 assists, suffered only 8 ball losses and via Stephaun Branch (14 points, 6 rebounds, 4 assists) it went to a deserved 95-111 victory.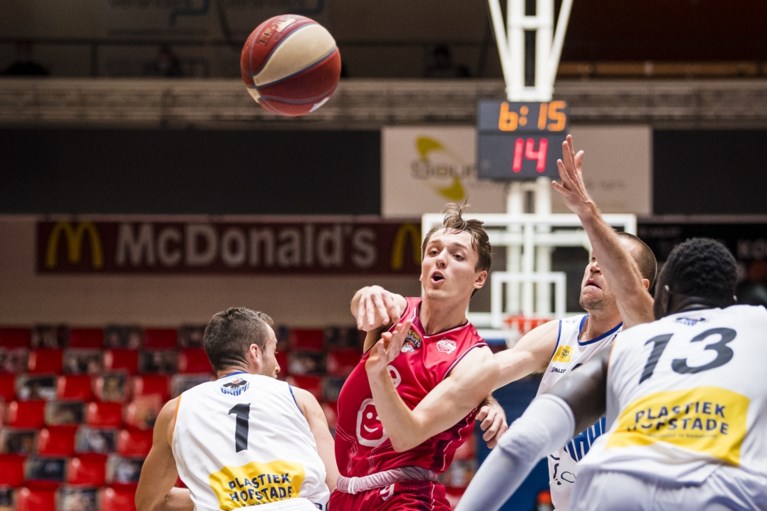 Okapi Aalst-Telenet Giants Antwerp 95-111
Okapi Aalst: McGriff 21, Mihailovic 40, Maras 2, Vujosevic 16, Gerouwen 7, Badji 2, Marchant 4, Schauvlieger 0, Kuta 3
Telenet Giants Antwerp: Branch 14, Gibbs 30, Van Den Eynde 13, T. De Ridder 3, Bleijenbergh 4, N. De Ridder 9, Kesteloot 9, Dudzinski 24, Donkor5
.